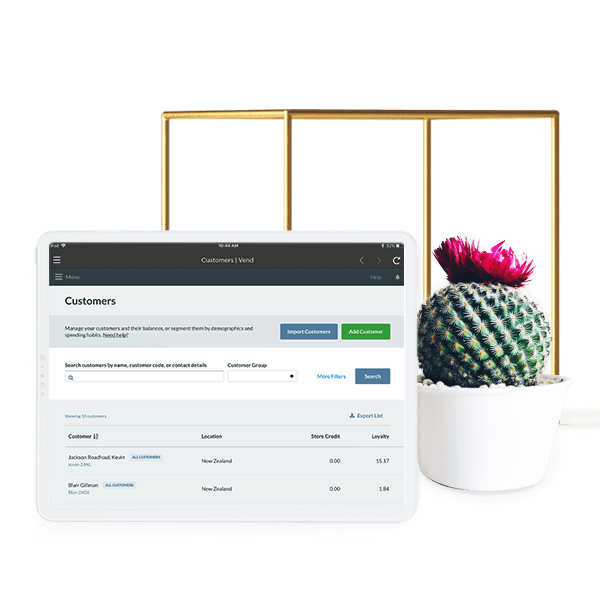 Build your customer database with ease
Add new customers directly at the point of sale
Save customer information seamlessly during checkout and rapidly build your customer database. Capture customer details with the option to email them their receipt.
Create customer profiles
Customer details are automatically stored under their profile where you can view their purchase history, loyalty and account balances.
Import your customer list into Vend
You've worked hard to build your customer database. Easily bring those contacts over to Vend with a simple CSV upload.
Attract new customers and increase revenue with gift cards
Bring new customers into your store
Help your customers spread the love. Gift cards are the most requested item for birthdays and holidays, and are a great way to get new customers into your store.
Increase your revenue
65% of gift card redeemers spend 38% over the value of their gift card,* and are more likely to buy products at regular price. Take advantage of this opportunity. *CEB Tower Group study, 2014 (USA).
Get set up in a flash
Gift cards are hassle free. Simply enable gift cards in your account, buy cards from our preferred supplier or your regular vendor, or get creative and make your own.
Easily sell & redeem gift cards
Process gift cards using Vend on a web browser or the Vend iPad app.
Available with Pro and Enterprise plans.
Build great customer relationships
Grow repeat business with your own customer loyalty program
Available with Pro and Enterprise plans.
Reward customer loyalty easily with Vend POS
Extend the power of Vend with email marketing apps
STAY IN TOUCH WITH YOUR CUSTOMERS WITH MAILSYNC
Autosync your Vend POS and ecommerce customer data to your mailing list. MailSync connects Vend to your favourite email tools, including MailChimp, Campaign Monitor, Constant Contact, GetResponse, iContact, or AWeber.
Learn more about apps
Grow your retail business with powerful POS Reporting
Take the guesswork out of retail. Whether you're looking for a high-level view of your business or want to get into the nitty-gritty details, get all the information you need lightning fast.