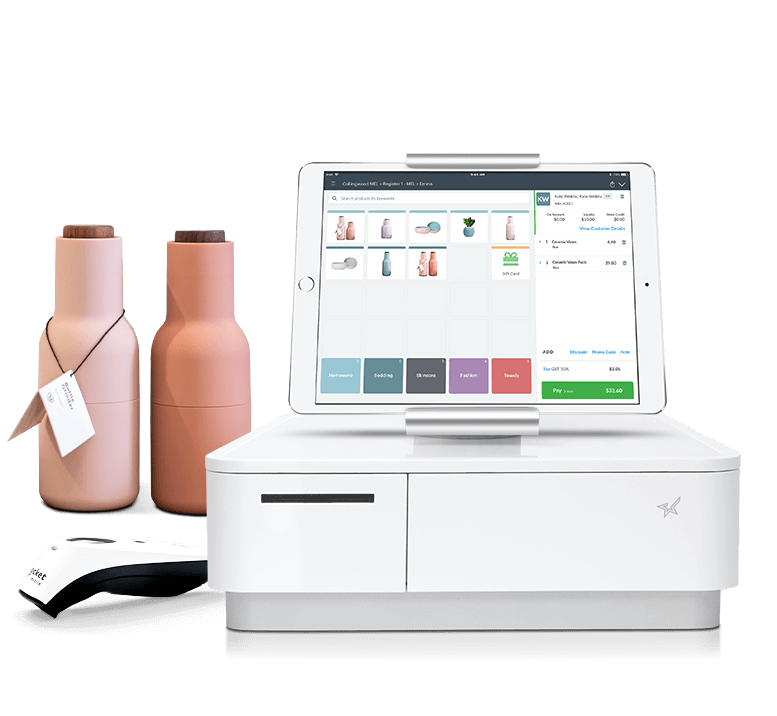 Vend makes hardware easy whether you use an iPad, Mac or PC
Mac and PC hardware
On Mac or PC, Vend is compatible with industry standard point of sale hardware, including printers, cash drawers and barcode scanners. Get a Vend hardware bundle that works out of the box or put together a custom setup from our recommended hardware.
iPad hardware
Setting up an iPad point of sale system is now easier than ever with the Vend Register app for iPad and iPad Mini. Simply plug in a network receipt printer, connect a barcode scanner, and you're in business.
Hardware suited to your situation
Use hardware you already own
If you're currently using another point of sale system, Vend might work with your printer, barcode scanner and cash drawer. Vend works on any device with a web-browser, so your iPad, desktop computer or laptop could already be good to go.
Check if your existing hardware is compatible with Vend.
Buy new hardware guaranteed to work with Vend
With plug & play support for printers, barcode scanners and cash drawers, you don't need to be an IT genius to get set up. Our recommended hardware is guaranteed to work seamlessly with Vend and you'll have access to our award-winning hardware support team if you get stuck.
Get the hardware support you need
Help Center
Visit our comprehensive Help Center to find step-by-step setup guides and videos for Vend-supported hardware, and get answers to the most common hardware questions.
Award-winning hardware support
If you're using a Vend recommended barcode scanner, printer, or cash drawer, our dedicated hardware support team can help you via email or chat with any hardware-related questions.
Vend Expert Partners
Looking for a tailored hardware solution and on-site setup services? Vend Experts can help you with all your hardware needs, and provide one-on-one training for you and your staff. They'll install your POS, connect all your hardware and help you with any other integration you need, on top of providing ongoing support.
Sign up for a no-risk 14 day free trial today!
Need help setting up your hardware such as barcode scanners?
Check out our help articles on setting up your hardware such as barcode scanners, cash drawers and printers.
Find out more
Payments your way
Accept all the ways your customers want to pay, in-store, online and on-the go. Vend integrates with leading payment providers for a seamless checkout experience.