Find the tools you need to streamline your business and maximize your time
Network of partners
Vend integrates directly with several of the best business and productivity apps around. Our add-on marketplace has everything from accounting, to email marketing, to employee scheduling to help you take your business to the next level.
More add-ons all the time
We're always adding new partners to help expand your business potential. Check back often to see what new add-ons can work for you.
Sync your store with Xero or QuickBooks Online to make accounting easy
Xero
Xero is easy to use, powerful online accounting software built for small business. Run the world's best retail using Vend and Xero.
Automatically sync daily sales totals, account sales and payment totals from Vend to Xero for easy bank reconciliation.
Post your cost-of-goods-sold to Xero for real-time visibility into your business's true performance.
Import contacts and manage customers in both Vend and Xero.
Stock orders post from Vend as accounts payable invoices to keep track of outstanding purchases.
Invoice your customers, receive payments and manage balances in either platform.
Watch the video
QuickBooks
OnlineQuickBooks Online is everything you need to run your business. Track sales and expenses, get paid faster, and even run payroll.
Register closures from Vend automatically sync daily sales totals by product type and cost of goods sold for easy reconciliations.
Elegantly designed dashboards show you how healthily your business is running at a glance.
Invoices can be customized with your company branding in an instant.
Easily import all your accounting information into Vend.
Keep up with your business wherever you are, from any device.
The QuickBooks Online integration with Vend is currently only available to customers in the USA.

Watch the video
Whether you need to schedule an appointment for your customers or manage your staffing, we've got an integration that will work for you
Deputy
With Vend and Deputy, you can easily schedule staff, assign tasks and track employee performance.
Record staff clock in/out with geo-location or photo verification.
Track your store's daily performance against staff scheduling and wages.
Roster based on hard data and performance reports and lower the risk of understaffing or overstaffing.
Communicate easily using staff-wide announcements, targeted messaging and task lists.
Automatically create timesheets when employees clock in/out with Deputy Kiosk iPad app or Deputy mobile.
Watch the video
Timely
Scheduling and point of sale are now beautifully combined with Vend and Timely.
Raise sales in Vend directly from your Timely appointment calendar, with no switching between apps.
Sell products by adding them to your appointment payment or make one-off sales.
Import your customers then relax while we keep them in sync.
Use all the advanced features of Vend alongside Timely.
Watch the video
Grow sales with loyalty marketing automation
Marsello
Grow sales in-store and online with smart, targeted loyalty marketing automation that gets results. Find out more.
Marsello combines automation and real human experts to run targeted retention marketing.
From loyalty and VIP programs, to customer feedback and segmented email automation, Marsello does the hard work for you.
Marsello works with Vend and your chosen ecommerce store to grow sales, in-store and online.
Watch the video
Optimize your inventory across all of your sales channels with Stitch Labs and Unleashed
Stitch Labs
Simplify your multi-channel retail business with Stitch Labs.
Sync your Vend account to Amazon, Shopify, Etsy, Storenvy, BigCommerce, PayPal, ShipStation, and more.
Determine what products are selling best. Get detailed sales, profit, and other KPI reports for every channel.
Manage all inventory and customers centrally, with no increase in your workload.
Sales, invoices, inventory levels and stock orders sync between Vend and Stitch Labs in real-time.
Unleashed
Take your inventory to the next level with Unleashed inventory management software, designed for small to medium size businesses.
Access advanced warehouse and supply chain management capabilities.
Easily integrate with Vend, your cloud-based accounting, and your ecommerce platforms to create a complete end-to-end solution.
Gain the real-time inventory intelligence you need to boost sales and make critical business decisions.
Watch the video
The best of the cloud just gets better
View all the apps that integrate beautifully with Vend to improve your business.
Sign up for a no-risk 14 day free trial today!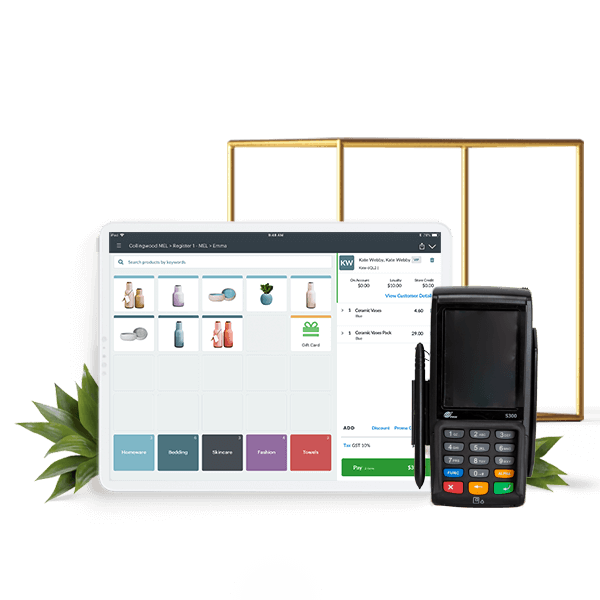 Software to grow your multi-outlet retail, not your workload
Manage and maximize your business in the cloud with Vend, whether you have two stores or two hundred.